I was in the hospital with twins in the last weeks of my pregnancy. We were building our dream house and I couldn't attend the closing. The closing wasn't going to happen that day because I wasn't there in person. Bob Toll got on the phone and was put on conference call at the closing. He said, "My daughter just had a son this year. Is this the couple whose wife is in the hospital with twins? Let's make this happen today." The closing went through. Many years later, my daughters became dear friends with Winston, Bob Toll's grandson. I love Winston. - and I love that his grandfather helped us move through the closing of our home in the midst of crisis! I'll never forget that.
Cheri D.
Mr. Toll touched my family through his support of the Metropolitan Opera. Shortly after I started with the company in 2016 my parents (87 & 89 years old at the time) were devoted listeners of the Saturday Matinee Broadcasts and noted the sponsorship by Toll Brothers and the joy it brought them in Waco, Texas.
Charles G.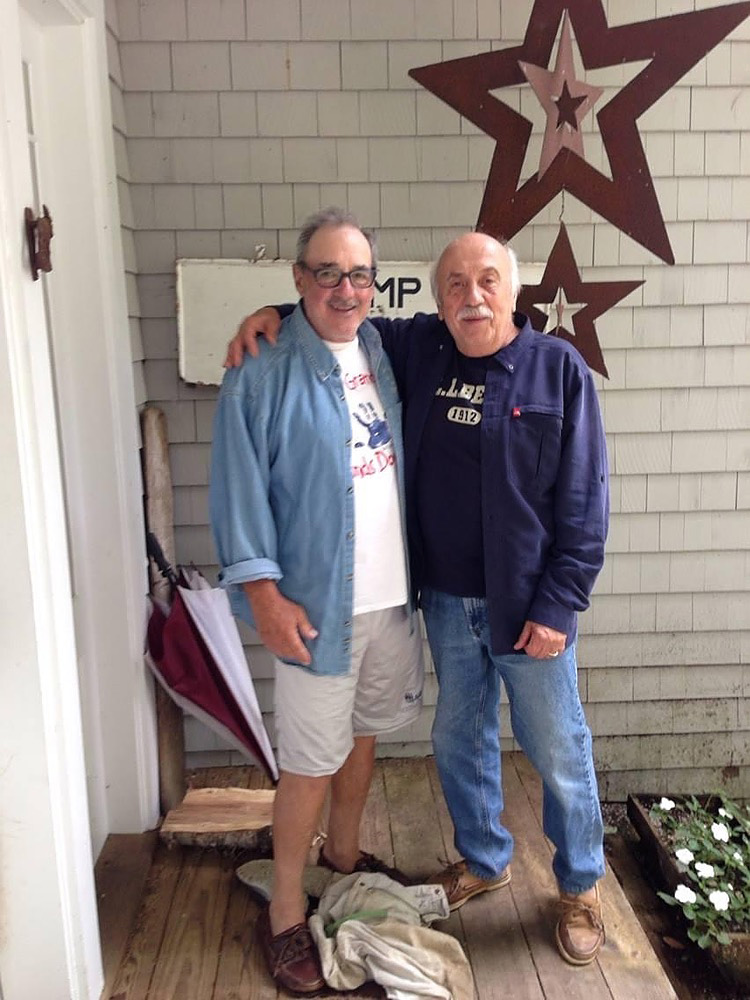 We went back together 75 years, starting as bunk mates at Camp Powhatan in Otisfield, Maine. He was my longest ever friend and someone I greatly liked and admired. R.I.P. dear "Bobby" from "Billy".
Bill O.
In sadness at the loss of the good friend of Ellen & Steve Solms and family.
Toni G.
I am very thankful to Mr. Toll for his interest and generosity. Sending codolances to his family and friends. From a donor member, MET Opera
Jason G.
Bob was a friend from high school in Elkins Park, and Cornell.
I am very grateful for his Toll Brothers Metopera radio network, which I listen to every Saturday. My condolences to Jane, and his family.
Judy M.
My condolences to the Toll Family. In 1967 my wife and I purchased our first home at Ingleside, Thorndale, PA. I went into the trailer and Bob was alone working over blueprints. I told him I had to buy that day because the price was $17,490 and we could not afford a price increase because I would be away for two weeks at summer camp in the reserves.
He called the realtor for me to draft up what was the first sale agreement in that project. He was always a gentleman throughout that job and I never forgot his friendliness and willingness to stop and say hello when he saw us outside our home. God bless you, Bob.
William K.
In May 2022, I will be with Toll 18 years, the longest I have worked, anywhere.
Thank you for creating a company, a brand, a work culture, and a family where I am valued, and my career continues to flourish. You have my sincerest gratitude.
John L.
I should have done this long ago but I wanted to thank you for the opportunity you have provided me in my Toll career that let me send 2 kids, adults now, to college and let me provide a comfortable place for my family.
I still remember the "old days" talking about Moorpark at land reviews and the many challenging projects we navigated.
Robert M.
I can remember the first we met. Bob had read a tiny article in Art & Auction that Martha Parrish and I had started our own art business. Bob decided that we "sounded" like the kind of dealers you'd like to know, and you dropped by our very small new Madison Ave office to introduce yourselves.
It was always a wonderful adventure after that- looking at art and sometimes acquiring major American Modernist pictures- but an occasional European Modern painting as well.
Bob once saw a John Singer Sergeant boat-in-harbor picture that we had briefly on consignment. He decided it wasn't for the two of you- but he bought it nevertheless, so we wouldn't lose it- and then he consigned it to us to sell. We never had many clients who were as generous as that!
Jim R.
Earlier this week I reached out to see if Bob and I could schedule our annual round of golf. I am so sad to have learned he is not doing well.
From my heart I have to say he's one of the most unique, compassionate and brilliant people I have been blessed to spend time with. I've been lucky enough to meet Presidents, movie stars, Popes and many more luminaries. None matched the positive impact time with Bob had on me.
Although we only spent 30 hours or so on the golf course over the last few years I was able to get so much spirit as we looked for our stray shots around the course. Laugh after laugh and opinion after opinion one rule was clear. When it was time to go meet his sweetheart the day was happily over.
I can't thank you enough for introducing Bob to MaryAnne and me. If there is anything we ever to to help the Toll family please consider it done. I hope it's a nice sunny day in Miami!
Donald C.
I feel very lucky to have a couple Bob Stories. Getting them in this email brought a smile to my face. Thank you, Bob.
I first learned about Toll when I applied to graduate school. I received a Real Estate program flyer from Cornell University and Bob's picture was on the inside cover. My third semester, Bob came to Ithaca and sat on a panel with Bob Strudler, who I learned was a good friend of Bob's while they were at Cornell. At one point in the panel discussion they joked about "placing" bald eagles on each other's development sites to slow the other one down. They had a great laugh.
After their discussion, Bob jumped on his cell phone and stood in a corner talking. I waited for about 10 minutes for him to get off that call. I was "I ran into Karl Mistry, who is coming out of Cornell Real Estate. He seems like a sharp guy. We need help in TX. He'll be done in May, check his resume, talk to him and if you can't find anything wrong, let's put him to work."
Good thing they couldn't find anything wrong with me! And put me to work they did. I joined Toll in Dallas 30 days after graduation from Cornell and celebrated my 18th anniversary with the company this past summer. I have moved my family twice with this company. I have had a truly incredible experience here and believe that my work family has been instrumental in shaping me as a leader, husband, father and son. Bob's passing had made me wonder how my life would be different had I not waited for him to jump off that call. Call it divinity, chance, or persistence, but that 5 minute conversation changed the path of life for the better and I feel so very lucky.
The second story is a bit more comical, and somewhat embarrassing, but too good not to share.
It was probably 2007 or 2008. I had come to Horsham with Tom Murray and Rob Paul for Dallas land reviews. Zvi was our reviewer. We sat in the boardroom for hours and toward the end of the review, Zvi excused me from the meeting explaining that he needed to discuss some private matters with Tom and Rob. I agreeably grabbed my cell phone and quickly left the boardroom. It was my first time in Horsham and I didn't know where to go or what to do, so I stood in the hallway and started listening to voicemails that had piled up on my cell phone. Just seconds after starting, Bob walked by, waved and then walked over. I naively thought he had remembered me from our chance encounter 5 years prior, but I did notice him staring at my nametag while he shook my hand. He then immediately said, "Do you need a place to work?" I hurriedly offered my explanation for being in the hall and said that Zvi had just excused me. He offered again, "Are you sure? I have an extra desk in my office." I was mortified. Bob probably thought I was chit-chatting and wasting time! He walked back to his office and I carried on checking voicemail. A few minutes later he came back out and noticed me still on my phone. This time he waved and walked to the boardroom. The story goes, he leaned in and said, "Hey Zvi, I got some guy in the hallway, I think his name was Kevin Mitchell? Can you get him a desk please?"
Tom Murray rushed out of the boardroom with a smile on his face and pointed me downstairs to hideaway while they wrapped up. To this day, a few people still call me Kevin Mitchell. I'm told that Barry Depew relayed the story to Bob a few weeks later and he had a great laugh.
The last time I got to see Bob was at a Board meeting last fall. We had a Board dinner the night before. I was the first to arrive. Bob was the second. We sat in a courtyard for a few minutes, just the two of us, while Bob's assistant tended to finding him a scotch. I told him about the Cornell story one more time. I had a chance to say thank you, which is all I had wanted. It was perfect.
I know stories like this are common, which is what made Bob so special. Like so many others at this organization, I'll work to honor his legacy by paying forward the same grace he gave me at that very first encounter.
Karl M.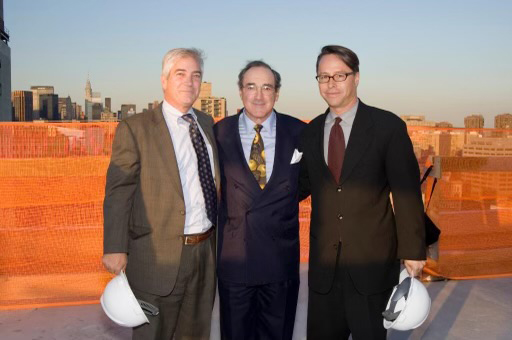 Rick Hartman, Bob Toll and David Von Spreckelsen at a topping out celebration of One Ten Third in Manhattan during the Spring of 2007. This was Toll Brothers City Living's first condominium development to be completed in New York City. When questioned by a journalist for an April 4, 2006 New York Times article "For a national homebuilder that has specialized in upscale suburban houses, Why New York City and why now?", our visionary leader responded
"The better question is, Why didn"t I do it earlier?"- Robert I. Toll
Michael D.
There's a special story about Bob that was so selfless and kind that I feel like I have to share it. About 10 years ago, my late father was diagnosed with prostate cancer. Soon after the diagnosis, I happened to be in corporate and walked by Bob in the hallway (and as always), he engaged in a conversation to ask how I was doing. During that conversation I mentioned my father's situation. Bob immediately asked about my father's test results, prognosis and suggested that we call him together in order to tell him about his own experience.
I can't tell you how much that meant to me and my family. Not only did Bob take the time to walk me and my father through his experience, but provided us with information on which specialists to see and what to expect throughout the process. As I'm writing this, it's hard for me to hold back the tears, as it literally changed my father's perspective on the process and me and my family will always remember what Bob did for us.
Sincerest Condolences,
John J.
Everyone who came in to contact with Bob Toll has a Bob story. Mine is a "Mr. Toll" story because ever since I started frequenting the corporate office in 2003, I could not bring myself to call him Bob... I would greet him "...good evening Mr. Toll" and he would respond with "I thought I told you to call me Bob", (following which I would apologize). My interactions with him were very infrequent, usually just passing in the office somewhere. Still, when he heard I had cancer in 2004 he sent me a personal note to wish me a speedy recovery and offered assistance with finding a specialist if I needed one. From my perspective he was a brilliant, approachable man with a great sense of humor. He had an uncanny way of connecting with people.
I only had the privilege of sitting in Mr. Toll's office once. The first thing I noticed to my left was a picture of him on an 11 meter "S2" sailboat. Coincidentally, I had a 9.2 meter S2 (of course, his was brand new at the time of the photo and mine was 34 years old). We had a fun conversation about that boat in which he relayed to me that he had "broached" it several times (meaning the boat was knocked down so hard by the wind that the rudder came out of the water). In nearly 30 years of sailing this has never happened to me. Broaching a cruising boat like his S2 would be accomplished by flying a tremendous amount of sail in very heavy winds on a "broad reach" (wind coming from a rear corner). Certainly not for the faint of heart... It occurred to me in that moment that he probably found the "limits" of virtually every pursuit he embarked on. This level of drive and passion for excellence (and the ability to inspire others with it) is the only thing that could create an unparalleled company like Toll Brothers. I feel fortunate to have met him, and to have made a small contribution to the company he built. I wish you fair winds and following seas, Mr. Toll...
Steven B.
I only met Bob once when we were on the elevator together at the old corporate office. He was wearing a baseball hat and a suit. He asked me what my plans were for the weekend since it was Friday at the end of the day. It was around Christmas time and he asked if I was going to any parties and said he wished he could still party like he did when he was younger. We shared a laugh and wished each other well. I was kind of nervous at first because I knew it was Bob (Big Wig) but that quickly faded during our interaction. What a down to earth sweet man.
Tracy B.
I have a special memory of Bob Toll from volunteering at the Toll Gala. Bob always made a beeline right to the volunteers at the Toll Gala and shook each one of our hands and thanked us for volunteering!
Jenn F.